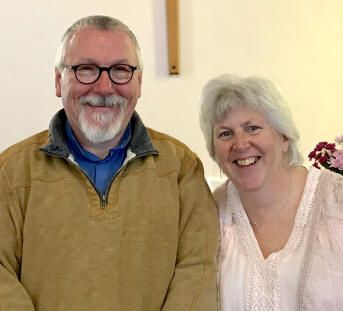 Charles and Lynne
My name is Charles J. Finnie, and I have come to Aviemore at the end of June from a town in Scottish Borders called Hawick, where I served as minister in the parish of Burnfoot for the past 22 years. I have been a minister for nearly 30 years, all of it in parish based ministry.
I was brought up in Perthshire and Glasgow, and have lived also in Aberdeen where I was a student at Christ's College, the Divinity Faculty.
I am married to Lynne, and have three children all grown up with their own respective partners, Mark & Sarah are in Glasgow, Stephen & Kirsty are in Hopeman, and Anna & Tom are at Lynwilg.
I really would like to see the people of God continue to grow in faith, and to have a better, firmer, closer relationship with God the Father, through the Son, in the power of the Holy Spirit. I still feel called to respond to the words of Jesus in Matthew 28:18-20, and the encouragement given by Paul to the church in Thessalonica - 1 Thessalonians 5:14-24.
That expansion of understanding of faith has to include an appreciation that we cannot keep faith to ourselves, but must allow others to see it in action in us, and maybe make them want to taste and see that God is good as well. And whether we think that people are watching or not (they are) we must with a sense of freedom found in Christ be willing to stand for the things of God and His Kingdom, and that informs our behaviour, our thinking, and our praise. Not always easy, but something that saints can achieve in giving Him glory.
I ride a motorcycle, but not a Harley Davidson, and like to see different parts of the countryside with that or with my wife in our old VW camper van.
I am looking forward to trying to get out and about and discovering the village, I have already made a start to that, and some of the surrounding countryside, and maybe will see you there. If you see someone out there looking a wee bit lost geographically, it might be me. If you are able to point me in the right direction.
Charles J. Finnie
Minister of Alvie & Insh l/w Rothiemurchus & Aviemore
SC000043 SC003282