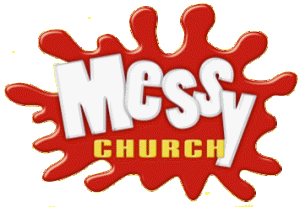 Messy Church meets on the first Sunday of the month during School Term
(The first one this year will be on Sunday 2nd February)
Children of all ages welcome but must be accompanied by an adult. Come and join in the fun.
Entrance free and light supper included
4.30 - 6pm The Hub (above the Red Cross charity shop), Grampian Rd, Aviemore
Well that's a name that people will find hard to forget! In the words of a famous paint maker "It does exactly what it say's on the tin". From Portsmouth to Aviemore the concept of "Messy Church" is challenging many within the "Church" about how we see "Church".
The concept of "Messy Church" was birthed at St. Winifred's, Anglican Church in Portsmouth, which recognised that it had to fight for any sense of community. They had great premises, resources and leaders but very few children. Does that sound familiar? From this recognised need the church tried to explore a "fresh expression of church" and from this came "Messy Church". The details and aids for "Messy Church" were put together a bit like a "Church for Dummies" book. But seriously it's a great help. The wee book, written by "Lucy Moore" contains 15 very enjoyable Thematic Programmes – boy that's a big word for HELP! on popular subjects.
The sessions have a standard yet flexible format around Craft Tables, Music, and Gods Word and of course my favourite - Food. We meet on the first Sunday of the month during school terms. Children must be accompanied by an adult. Everyone has a really good time and the children all look forward to the next meeting!
See http://www.messychurch.org.uk/ for further information.